Manufacturers Strike 'Perfect Match'
Conewago contract metal company CEO sees fit with newly purchased D.C. firm
By Roger DuPuis, December 21, 2015 at 8:00 AM
This article was originally published by the Central Penn Business Journal. It's available online in original form here
You might say they fit together like a key in a lock, or the spinning teeth of two finely engineered gears.
Precision Cut Industries Inc., based in Conewago Township, Adams County, recently closed on a deal to buy a suburban Washington, D.C., firm, Marelco Inc., bringing together two contract metal companies with a half-century of history and 120 employees.
The purchase also brings together two companies with distinct but complementary specialties — and that, says Precision Cut President and CEO Brian Greenplate, only makes the two stronger.
"I can see some amazing possibilities from the integration of our two businesses," Greenplate said. "PCI and Marelco are the perfect match."
Precision Cut's markets have included agriculture, food and beverage, heating and refrigeration, auto and transportation and energy production. Maryland-based Marelco, meanwhile, specializes in defense, satellite, communications and the gaming industry.
Part and parcel of the differences are the means of production, however.
Precision Cut specializes in laser cutting, welding, forming and assembly, Greenplate said. Marelco specializes in perforated punching, forming, welding, CNC machining, wet painting and silk screen labeling.
"We have complementary capabilities," Greenplate added. "It opens up new markets for both locations."
The purchase price was not disclosed.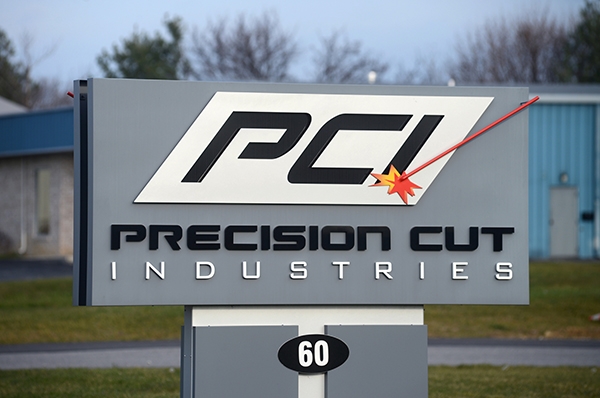 Two Histories
Founded in 1998, Precision Cut employs about 100 people and grosses around $17 million annually, executives said, operating out of two facilities near Hanover.
Marelco has been in business for about 30 years, executives said. It employs about 20 people, with annual sales of about $3 million.
Both companies primarily serve domestic customers, Greenplate said, though some of their output finds its way into products sold worldwide.
"I am extremely excited about the PCI acquisition of Marelco," said Rodney Osbourne, newly appointed division director at Marelco. "With their strong ownership and outstanding reputation, I look forward to executing our new shared vision."
Precision Cut manufactures a diverse range of components, for tractors, dump trucks, tow trucks, cranes, road-construction machinery, vending machines, food and beverage conveyors, and wind turbines.
Greenplate said clients have included Volvo Construction, Case New Holland and Voith Hydro.
Mike Noll, Precision Cut's director of sales and marketing, explained that Marelco's customer base includes high-tech and government customers.
Marelco's speed radar equipment is used on traffic devices in Maryland. And the company's technology also is used in mail sorting equipment commissioned for the U.S. Postal Service, Noll said.
Marelco also makes bill acceptor devices, which have a wide range of applications, including in the gaming industry, Noll said.
Greenplate pointed out that such products reflect another of Marelco's specialties: metal enclosures and electromechanical assemblies.
"First and foremost, we think they're a good, solid brand with a strong reputation for quality," Greenplate said. "They have a very loyal following."
Precision Cut also enjoys a strong reputation and loyal following.
York-based Mantec Inc., which serves as consultant and resource center for business in southcentral Pennsylvania, has praised Precision Cut as one of the region's success stories, describing its use of Lean certification principles to improve product flow and increase on-time delivery.
Precision Cut also was a finalist for the Excellence in Workforce award for Mantec's 2013 Manufacturing Awards.
In addition, the company is ISO 9001 certified and ISO 14001 certified for quality and environmental standards.
A Shared Future
Marelco is becoming a division of Precision Cut, and will operate under its own brand while being integrated as a division of the Precision Cut family, according to a Precision Cut statement.
Greenplate said the company currently has about 65,000 square feet of operations in the midstate and will continue to maintain Marelco's 25,000 square feet of space in Maryland.
Precision Cut didn't necessarily go looking for an acquisition, Greenplate explained, but the transaction evolved as executives learned that Marelco was looking for new opportunities.
What's next for Precision Cut? Greenplate didn't have any specific purchases in mind but said expansion is always possible.
"We'll always keep our eyes open," he said. "And if an opportunity presents itself, we should be looking at complementary skill sets."
As happened with Marelco.
"We're excited that this acquisition expands the breadth of services we can provide to our customers," Greenplate said. "This also allows us to explore completely new industries."
Written By Roger DuPuis
Roger DuPuis covers Cumberland County, manufacturing, transportation, distribution, energy and environment. Have a tip or question for him? Email him at [email protected]. Follow him on Twitter, @rogerdupuis2.