By Michael Yoder
[email protected]
As Brian Greenplate walks the floor of his company, Precision Cut Industries, he takes time to personally address each employee, asking them about the pace of their work, their needs for the day or their upcoming holiday plans.
The president and CEO of the Conewago Township, Adams County-based manufacturer said he makes a point to know the names of all his 160 employees and to be acquainted with a bit of their background outside of the workplace. It's more than just a point of pride for Greenplate – it's what he considers one of the keys to the success of the company that does custom work for businesses around the country.
Greenplate said he's proud of the size the company has grown to since he bought it in 2004, expanding to 100,000 square feet of space between three different buildings in an industrial park just west of Hanover. He's proud of the equipment he's put in place, including 13 large laser cutters that make everything from specialized parts for satellites to casings that hold glass plates for skyscrapers going up in New York City.
What Greenplate is most proud of is the team he's built at PCI, calling his workers the company's most valuable commodity and resource. And to capitalize on that resource, Greenplate has encouraged the development of a cohesive company culture of values and fundamentals that are more than just words on paper.
"The equipment's there and you need that to do what we do, but I like to think our people are much more valuable than our equipment," he said. "And with the people being our most valuable resource, how do we, all of us, myself included, behave in a way that helps create customer value as opposed to our equipment creating customer value?"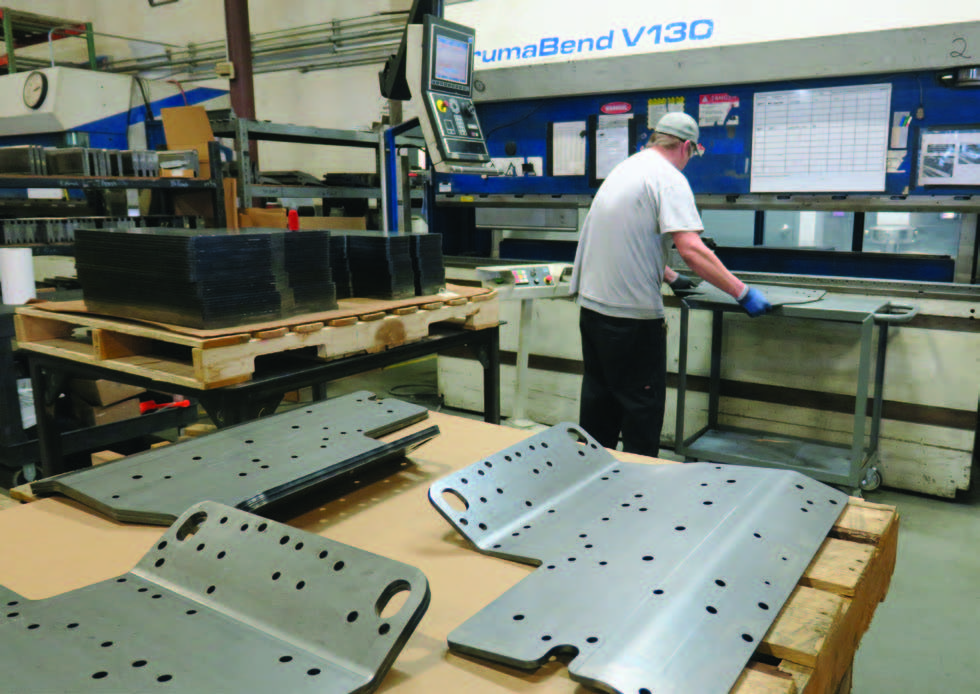 The PCI Way
When Greenplate, a former executive with West Manchester Township-based Voith Hydro, decided to make the leap to owning and running his own company, PCI was just a small laser cutting operation operating since 1998 in the Penn Township Industrial Park east of Hanover. PCI had around 25 employees then, and was doing about $3 million annually in sales.
After relocating the company to Ram Drive on the west side of town, Greenplate began growing PCI. He took over a 30,000-square foot space that formerly housed a clothing manufacturer, and later acquired two more buildings.
Steady growth through 2015 allowed him to purchase a Beltsville, Maryland-based metal manufacturer serving customers in the metro Washington, D.C. region.
By the close of 2019, PCI was looking at $32 million in annual sales and around 160 employees, and an annual growth rate of 15% to 20% over the last few years. He expects that growth to continue in 2020. PCI has become one of the largest laser-cutting companies on the East Coast.
"The manufacturing economy has been very strong, so we feel fortunate that we've been able to be part of that," Greenplate said.
But PCI's success runs deeper than a strong manufacturing economy, Greenplate pointed out. Just a few years ago, he felt like the company was stuck in its mindset and work culture, focusing on values like "quality," "accountability" and "service excellence" without any plan to see them implemented.
Then he went to a meeting of a Central Pennsylvania chapter of Vistage, a peer mentoring organization where he heard a speaker talk about building company cultures and behaviors that support its values. He enlisted the help of the speaker to take a look at his company's culture, bringing him in to help move the brainstorming process along more quickly.
PCI's management team started writing down principles it wanted to highlight, coming up with 30 fundamentals it called "The PCI Way." Those 30 fundamentals and six values are what drives its culture, emphasizing what's important to the company and its employees, Greenplate says. "We wanted the behaviors to be actionable and what was important and means something to us."
Each employee carries a card in their wallet listing The PCI Way principles. The first fundamental is "deliver world-class service," stating that employees should "do the little things, as well as the big things, that surprise people and create the 'WOW.'"
The second fundamental listed is "take extreme ownership," encouraging employees to be resourceful, show initiative and do what is necessary to get the job done.
Greenplate said they focus on a different fundamental each week, with an email sent out to all employees describing the fundamental and its meaning for the company. Throughout the week, "team huddles" with department heads take place to talk about the fundamental and ways to implement it in the workplace.
At week 31, attention is turned back to the first fundamental and the process starts again.
"The values are important, but values on a wall are very different from actions we can take day-to-day, week-to-week about who we are," Greenplate said. "We think the fundamentals are a key part of our growth and part of who we are and how we create value for our customers."